Blameless makes it easy to automatically send completed Retrospectives to relevant stakeholders via the Emails & Reminders configuration in the "Settings section". Enabling this feature is a simple process.
Applying Preferences​
The user can set these values under the Settings (gear) icon on the left side of the Blameless UI window.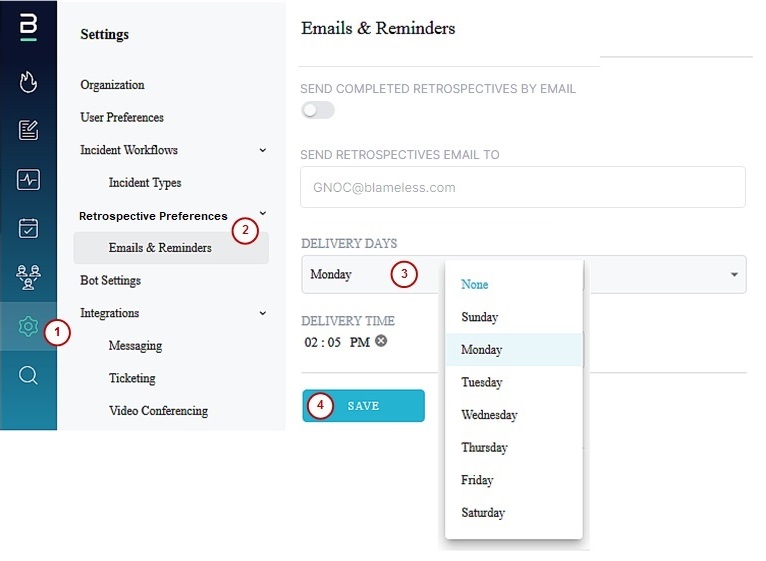 Locate the Settings (gear) icon and click on it.
Locate the Retrospective Preferences" option in the pop-out drop down and click on it.When you open the Preferences window, the following options are presented, allowing you to customize the delivery via the Blameless app.
Send completed Retrospectives by E-mail
Send Retrospective E-mail to
Delivery days
Delivery time
Send completed Retrospectives by E-mail​
Directs the Blameless Bot to send completed retrospectives via email(s) to be specified later in this settings section.
Send Retrospective E-mail to​
Specifies which e-mail addresses should receive Retrospective reports.
Enter the desired address and press ENTER.
Repeat for all addresses.
Delivery days​
Specifies a recurring day the addressees should receive any completed Retrospectives.
Delivery time​
Specifies a time the addresses should receive completed Retrospectives.
Click on the "Delivery Days" drop down to pick an option.
Click the "SAVE" button to set up the preferences.