Runbooks allows users to document the optimal and consistent way to respond to events. Users are guided through a series of predefined steps to accomplish a specific outcome via manual steps.
Getting Started
Navigate over to the Blameless UI, and from the main navigation menu click on Runbook Documents.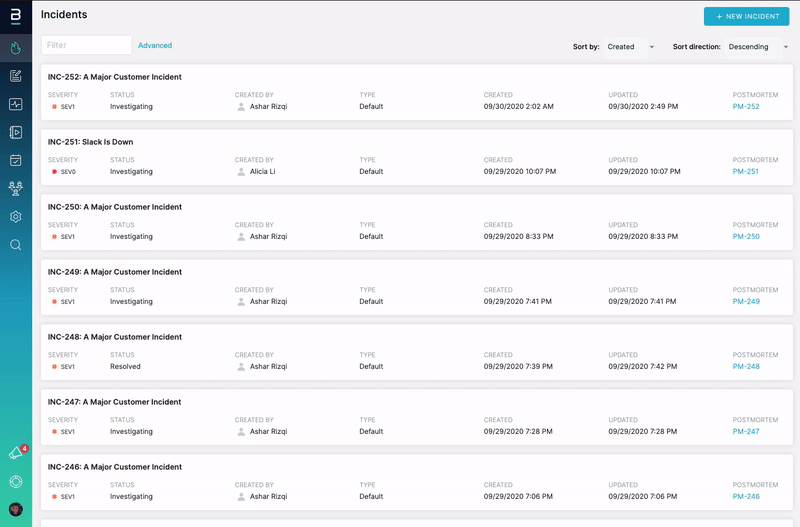 Runbooks List
Here you can view all created Runbooks at a glance and perform custom filtering and sorting. From this view you can also create new Runbooks and interact with existing Runbooks.
Filtering
Using the filter input, you can filter Runbooks by Name, Description and Steps Count fields.
Sorting
You can sort Runbooks by Name, Description, Steps, Created and Updated fields
note
By default it will sort by Created field, in Descending ↓ direction.
List
Existing Runbooks will be listed here.
Each Runbook listed here will have a color and an icon to identify the status of the last used Runbook Document.
Hovering over the status icon will present additional information for the runbook status if applicable.
Clicking on the more actions menu in the top-right corner of a runbook item opens a context menu with different options:
Edit: Alows the user to edit runbook properties
Runbook Steps: Allows the user to edit runbook steps
Remove: Removes the runbook
Creating a Runbook Document
You can create a new runbook by clicking the + NEW RUNBOOK button in the top-right corner.
You will be prompted with a side modal to complete basic runbook fields.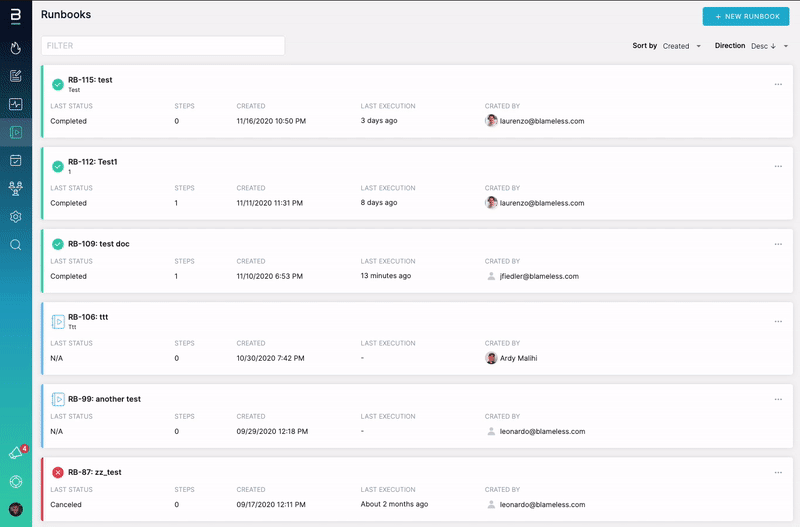 Field
Description
Default
Required
Name
Runbook name
True
Description
Runbook description
False
View Mode
- Default: Show each step within a box so you can easily differentiate between steps.
- Compact: Show steps without any wrapper so that the runbooks appears like one long document.
Default
True
Runbook Details Page
Once you create a new runbook, you'll be redirected to its details page.
Summary Sidebar
Here you can find general information pertaining to the current runbook:
Actions: Available actions for the current runbook (runner actions are only visible in runner view)
Created by: Show the user who created the runbook.
Updated by: Show the user who last updated the runbook.
Description: Runbook description.
Created: Runbook created date.
Updated: Runbook last updated date.
Last Used: Show the datetime when the runbook document was last used.
Resource Name: Show resource associated to the runbook, if applicable (i.e Incident).
Resource Id: Show resource ID, if applicable (i.e Incident ID).
History: Show the historical usage, if applicable.
Editing a Runbook
In the top-right corner, there is an EDIT RUNBOOK button, clicking that button allows you to edit basic runbook properties such as Name, Description and VIEW MODE.
Steps Tab
From the steps tab, you can easily view the steps in your runbook or create new ones. After creating a new runbook, this will initially be empty, so you'll be prompted with a message and a button to start building steps.
Clicking the BUILD STEPS button or the Pencil Icon in the actions section, you can start building your runbook steps.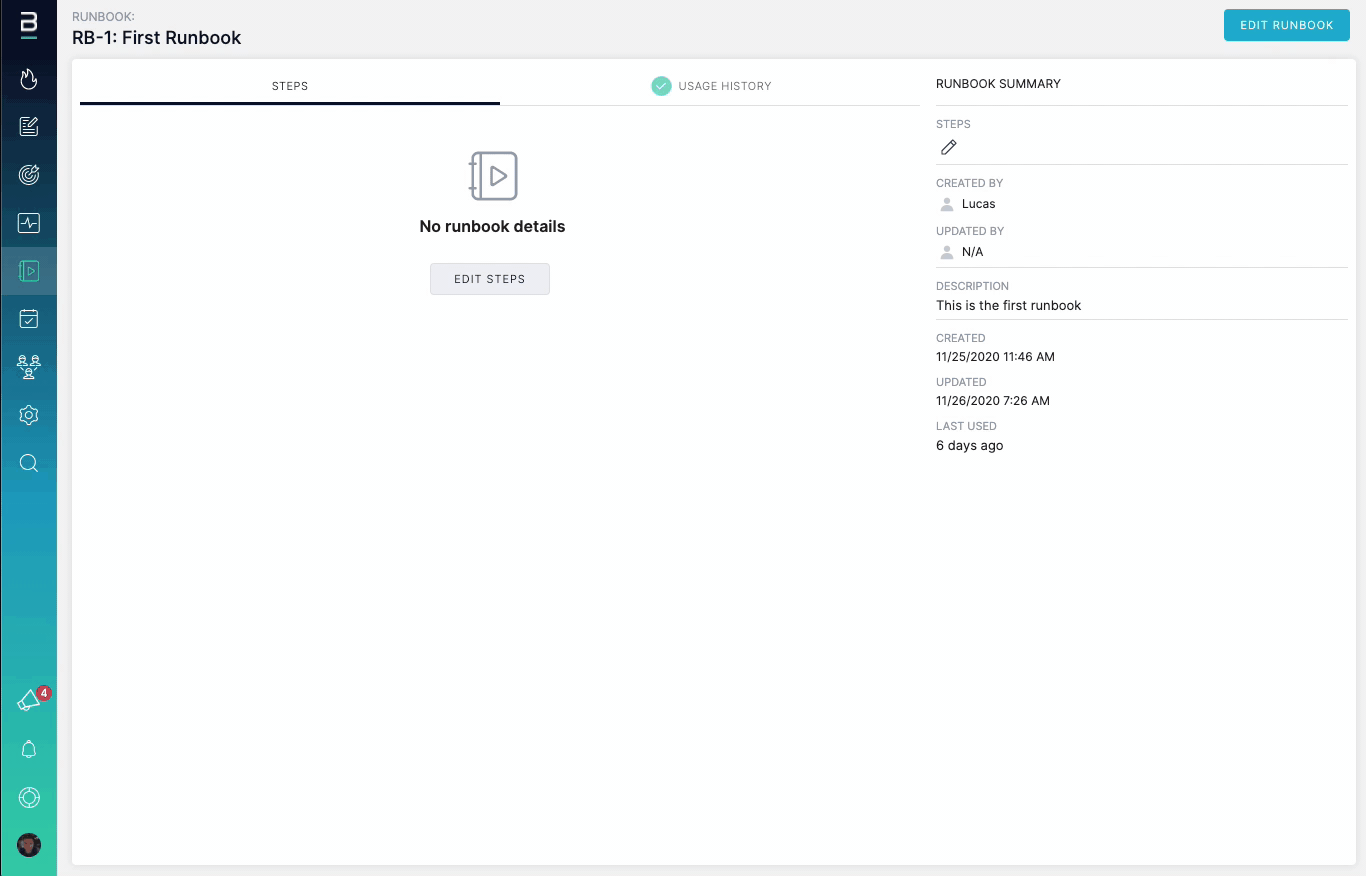 Usage History Tab
From the Usage History tab, you can view the historical usage of the runbook document, as well as preview current runbook steps.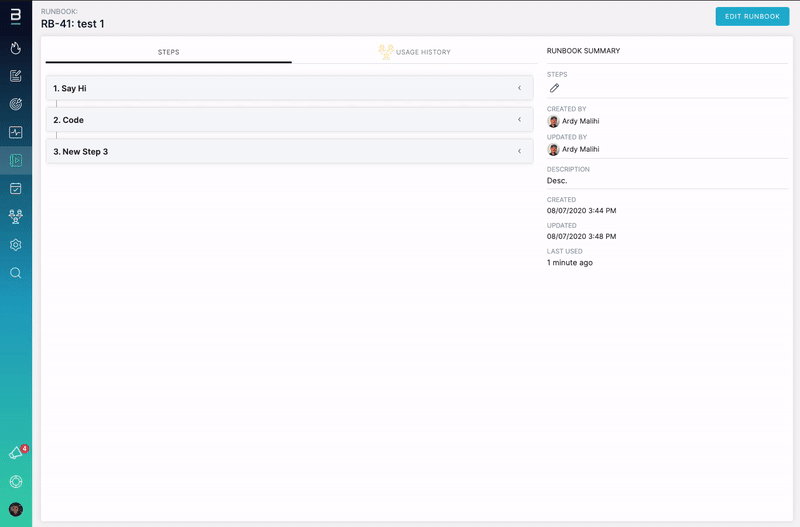 Building Steps
From the steps builder UI, you can start creating steps for your runbook by clicking the CREATE STEP button.
In the left panel you can see all the steps you've created, and clicking on a step show the details in the right panel.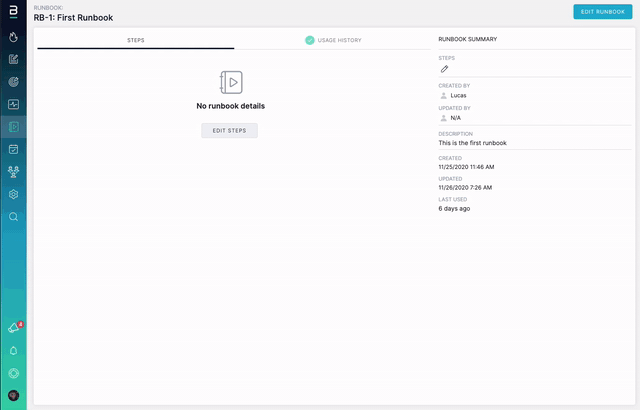 Step Title
By default, steps will be named New Step (n), you can change that and add a custom name to you step from the Title input.
Requiring Feedback
If the task type allows it, you can prompt the user for explicit feedback after the task is completed in the runner.
When Need Feedback is enabled and the task is completed, the user can add additional feedback.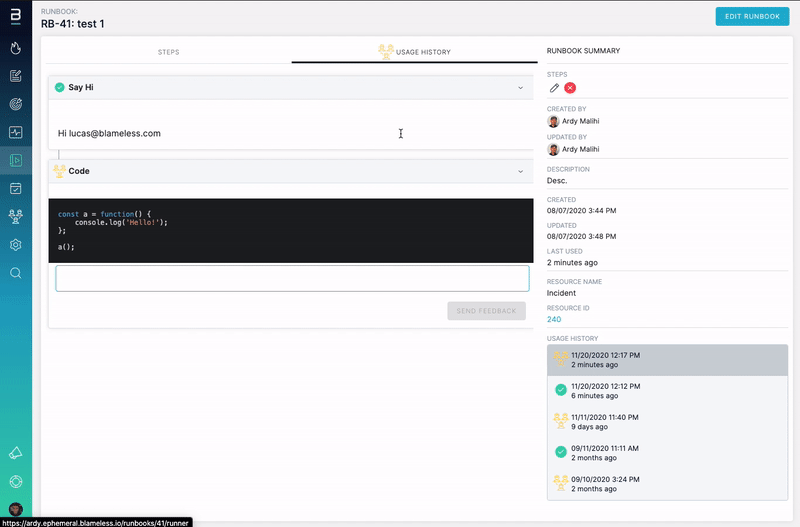 You can create different tasks. The following table describes them:
| Name | Description | Example |
| --- | --- | --- |
| Text Block | Log and print any message to the screen. Supports the use of state and global variables. | |
| Rich Text Block | Similar to Text Block with rich text capabilities. Supports the use of state and global variables. | |
| Code Snippet | Display a code editor that allows you to select between more than 50 languages with syntax highlighting. Supports the use of state and global variables. | |
| Custom Form | Use this task to create you own form with JSONSchema. | |
Ordering Steps
If you need to change the order of steps, you can easily drag and drop them.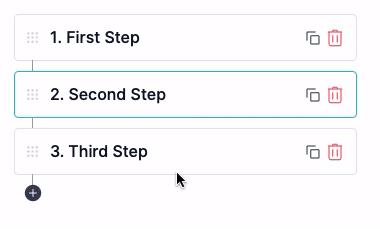 Cloning Steps
If you've created a step that you'd like to reuse across multiple runbooks or even in your current runbook, you can click the Duplicate step to runbook button for the step you want to clone and then select a runbook as a destination.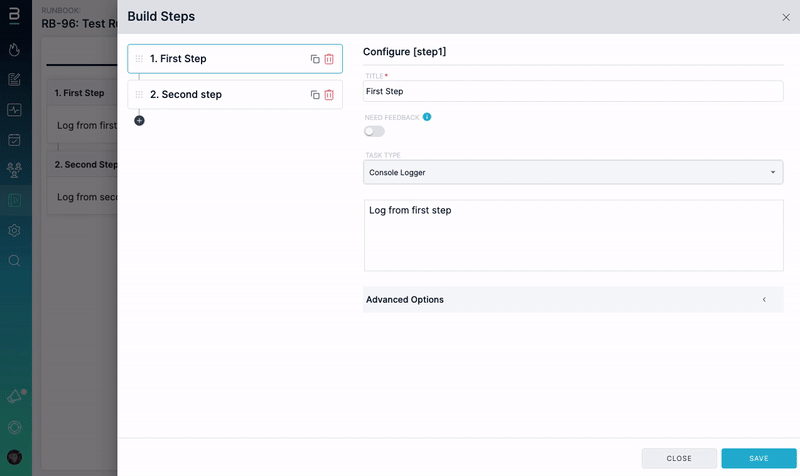 Attaching Runbooks to Incidents
If you want to attach one or multiple Runbooks to an existing Incident, you can do that from the Runbooks Tab on an Incident details page.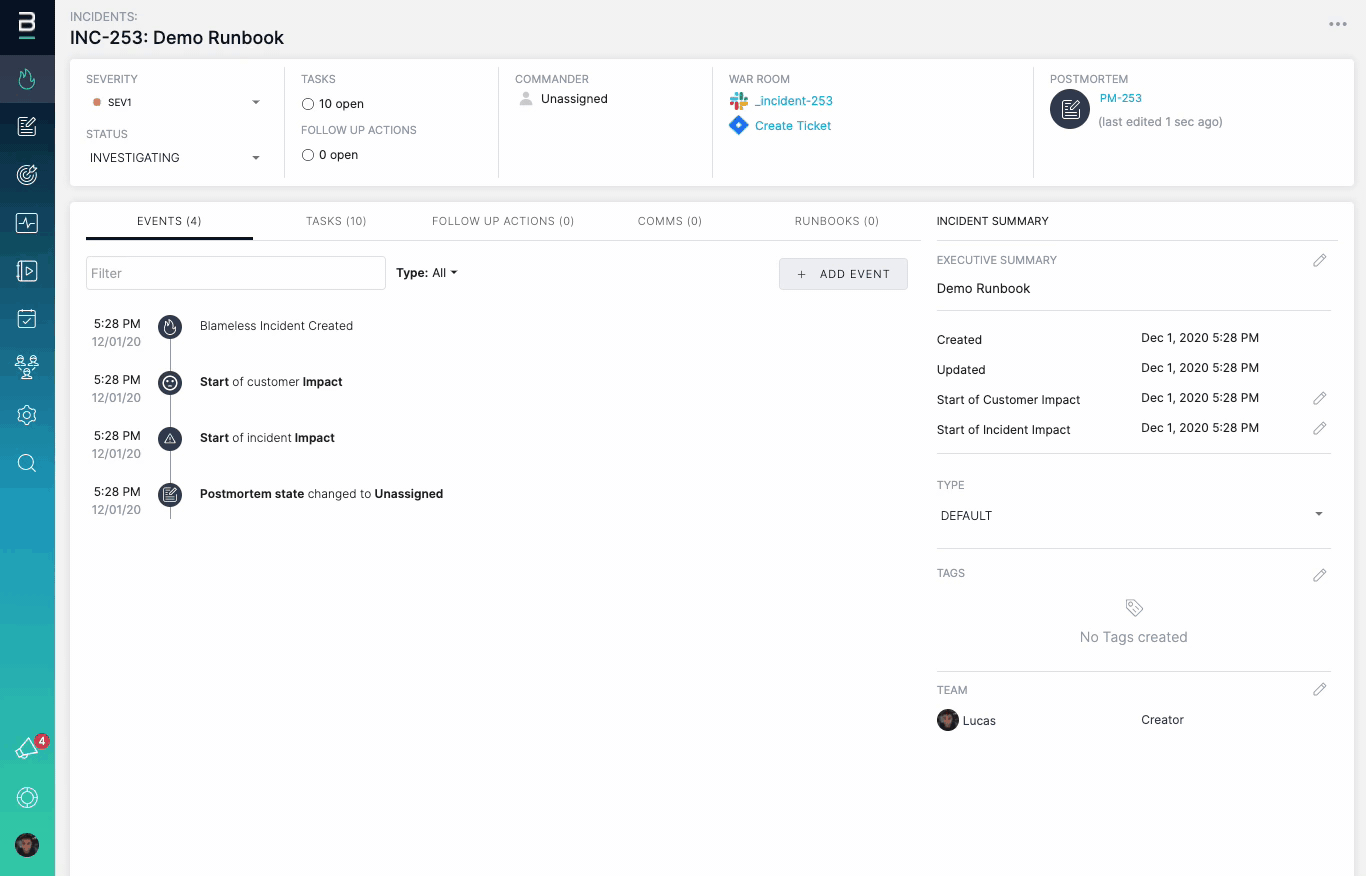 Usage History
The usage history tab shows the historical usage of your runbooks, the runbook metadata and its associated resources (e.g. incidents).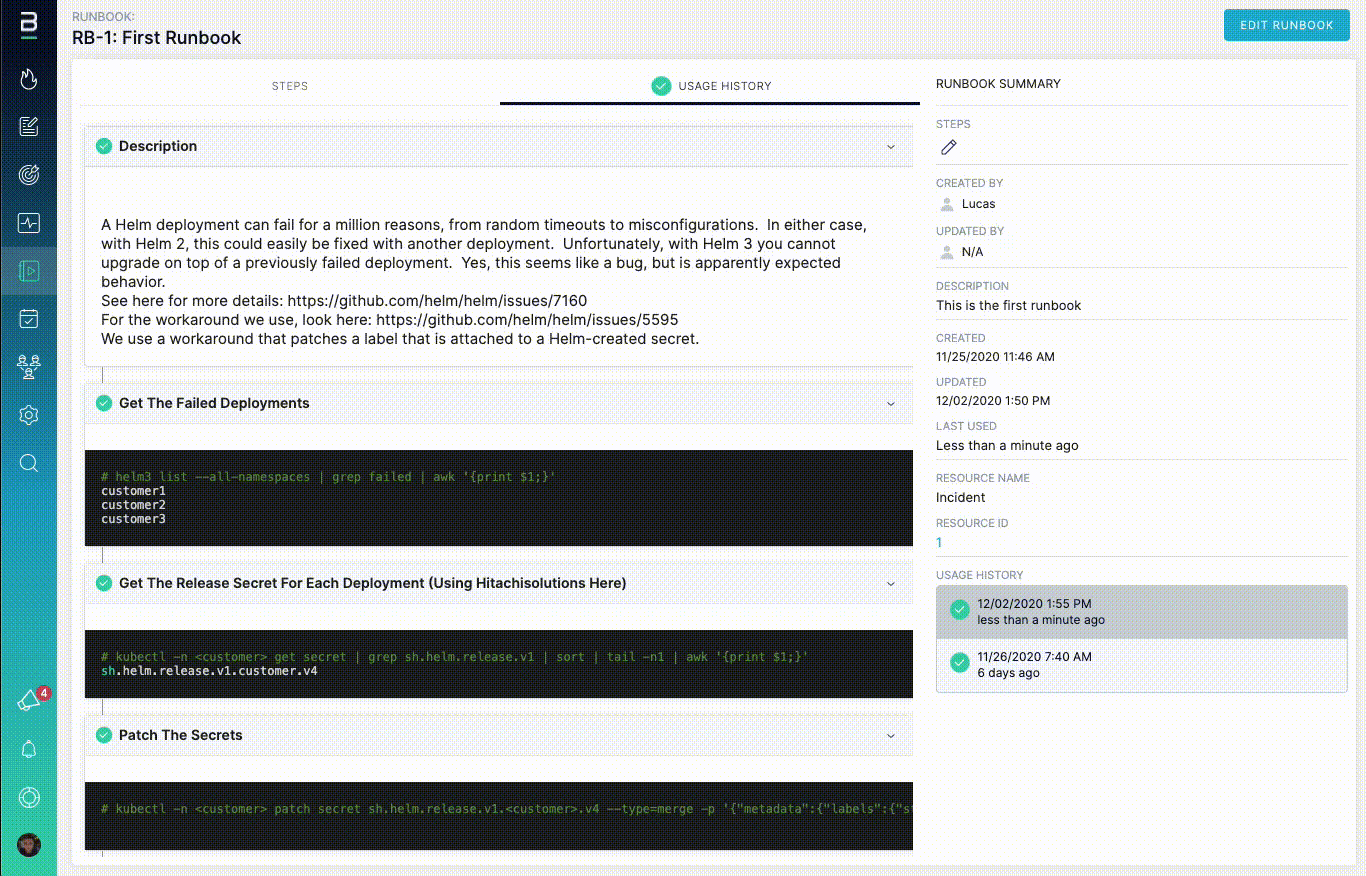 Runbook History
When a runbook is attached to a resource (e.g. an incident), it will create and associate an instance of that runbook to the resource. Creating an instance of the runbook allows us to create a snapshot of the runbook at a given time. This is useful for historical usage tracking, especially as Runbook contents continue to evolve.
Runbook Instance Status
You can see the current instance status in the Usage History Tab and also in the Runbooks List for each runbook.
There are many different statuses for a given runbook instance:
| Status | Color | Icon | Description |
| --- | --- | --- | --- |
| COMPLETED | | | Running instance has been completed successfully. |
| RUNNING | | | Runbook instance is running. |
| INTERACTION | | | A step requires user interaction. |
| PAUSED | | | Runbook instance has been paused. |
| FAILED | | | Runbook instance failed in a step. |
| CANCELED | | | Runbook instance canceled by the user. |
Instance History
If you're in the Usage History Tab, you can see all previous and current instances of the runbook at the bottom of the Summary Sidebar under the History section.
If you click one of the previous instances, you'll see a snapshot of the instances at that given time.